There are many men in the cigar business today, but there are few true artists. Among those few is Don Roger Resek, Founder and President of PUROS DON ROGER in the Dominican Republic. His family was among the first to grow Cuban seed tobacco in the Dominican Republic, and his tobacco has long been recognized among the best.
Don Roger learned much of his art from his grandfather and father who were among the first cigar manufacturers in the Dominican Republic. Starting the family business in the fertile lands of Moca, the family spent two generations perfecting their art. In 1996, Don Roger Made a decision to create a new line of cigars in the family tradition, personally is creating the brand now known as "DON ROGER", a cigar whose taste, aroma and construction bring the refined smoker's thoughts back to a time, before the cigar boom, when cigar makers personally oversaw each step of the painstaking process. Don Roger still does.
The company is now managed by his grandson, Yomar Hernandez Resek, under the watchful eye of Don Roger. Yomar, who is Vice-President, is taking the company to new heights bringing in new ideas and starting a new line of cigars, a more prestigious, more exclusive line of cigars.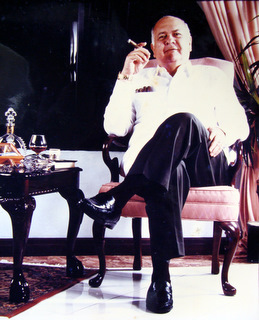 Don Roger Resek, Founder & President